EVENT
第1回パルクール世界選手権 広島2020/Parkour World Championships HIROSHIMA2020【延期】
2020/04/03〜2020/04/05
Event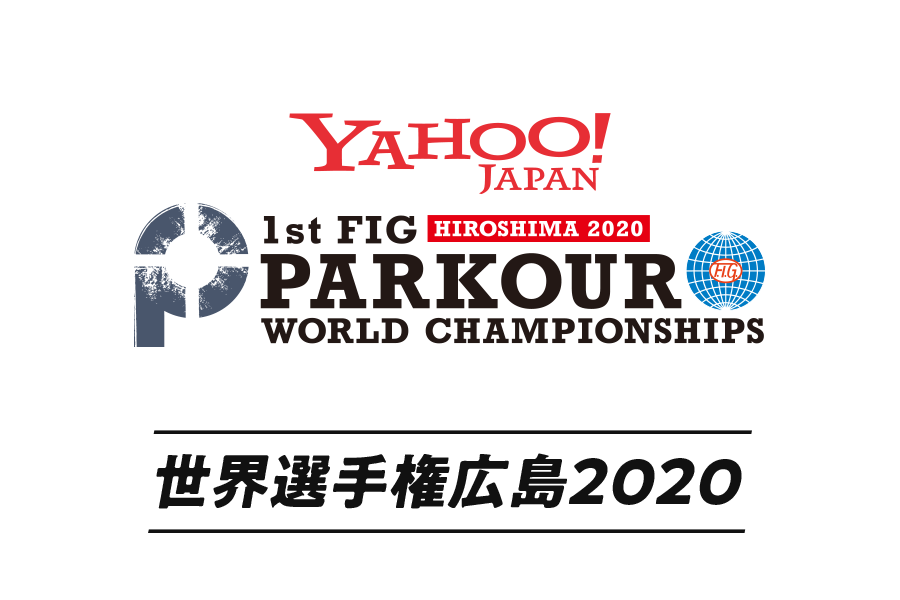 Parkour World Championships, part of the 2020 FISE World Series, in Hiroshima, Japan – initially scheduled from 3 to 5 April – has to be postponed.
The new date of the competitions will be announced on our website later in consultation with the Japanese authorities and the series organizer.
Date:2020
Site:Hiroshima Chuo Park
Address:15 Motomachi, Naka Ward, Hiroshima, 730-0011, Japan
Organizer:FIG-Fédération Internationale de Gymnastique
Managing organizer:JGA-Japan Gymnastics Association
Supporting organizer:JUSC- japan urban sports support committee
※日本語の情報は下にあります。
Competition Schedule
3 April (Fri.)
Women Speed-qualification・Men Freestyle-qualification
4 April (Sat.)
Women Freestyle-qualification・Men Speed-qualification・Women Speed-Semi qualification
Men Freestyle- Final・Women Speed-Final・Award Ceremony
5 April (Sun.)
Men Speed-Semi final・Women Freestyle- Final・Men Speed-Final・Award Ceremony
Detailed schedule information will be announced.
You can see the tentative information from FIG Parkour Website;
https://parkour.sport/events/detail.php?id=16322
Venue
Hiroshima Central Park : 15 Motomachi, Naka Ward, Hiroshima, 730-0011, Japan
*1st FIG Parkour Championships will be held inside FISE.
Information about FISE; (English and French)


Entrance Free without no registration.
However we highly recommend to download App, which can provide you the QR entrance cord and also provide information about the event.
https://urbansports.app/
Athletes
Will be announced.
Japanese athletes
Men   ASAKURA Sei, SATO Jun, SHIMADA Zen, and MATSUKAWA Kaio
Women YAMAMOTO Hanaho and IZUMI Hikari
*6 athletes above will participate in the upcoming World Championships.
The top athletes of the Parkour Japan Championship 2019 won the qualification of World Championships 2020, and based on the results of the other FIG and JGA competitions in 2019, Japan Parkour Commission recommended 3 more athletes.
Media Accreditation
For the information and registration for Media, please visit Press information of FISE;
https://newsroom.fise.fr/
大会概要
【大会が延期となりました。延期日程が確定しましたらあらためてHPでご案内します】
日時:2020年
場所:広島・広島市中央公園 (広島県広島市中区基町15)
主催:FIG(国際体操連盟)
主管:日本体操協会
後援:日本アーバンスポーツ支援協議会
競技日程
4月3日(金)
女子スピード予選・ 男子フリースタイル予選
4月4日(土)
女子フリースタイル予選・男子スピード予選・女子スピード準決勝・男子フリースタイル決勝・女子スピード決勝・表彰式
4月5日(日)
男子スピード準決勝・女子フリースタイル決勝・男子スピード決勝・表彰式
スケジュール
順次WEBサイトにアップいたしますので、もうしばらくお待ちください。
現状のスケジュールは以下のFIGパルクールページ(英語)からご確認ください。
https://parkour.sport/events/detail.php?id=16322
日本人出場選手(予定)
男子 朝倉聖、佐藤惇、島田善、馬津川魁晃
女子 山本華歩、泉ひかり
※2019年度日本選手権の最上位選手が出場権を獲得し、さらに2019年度FIG及びJGAの大会結果を踏まえ、パルクール委員会として3選手を推薦し、上記の選手が出場することとなりました。
会場
本大会は、FISE HIROSHIMA内で開催されます。


観戦は無料です。当日参加も可能ですが、事前のアプリ上での登録・申込を推奨します。
メディア・取材申請
本大会の取材を希望されている方は parkour@kju.jp(パルクール委員会)までお問合せください。